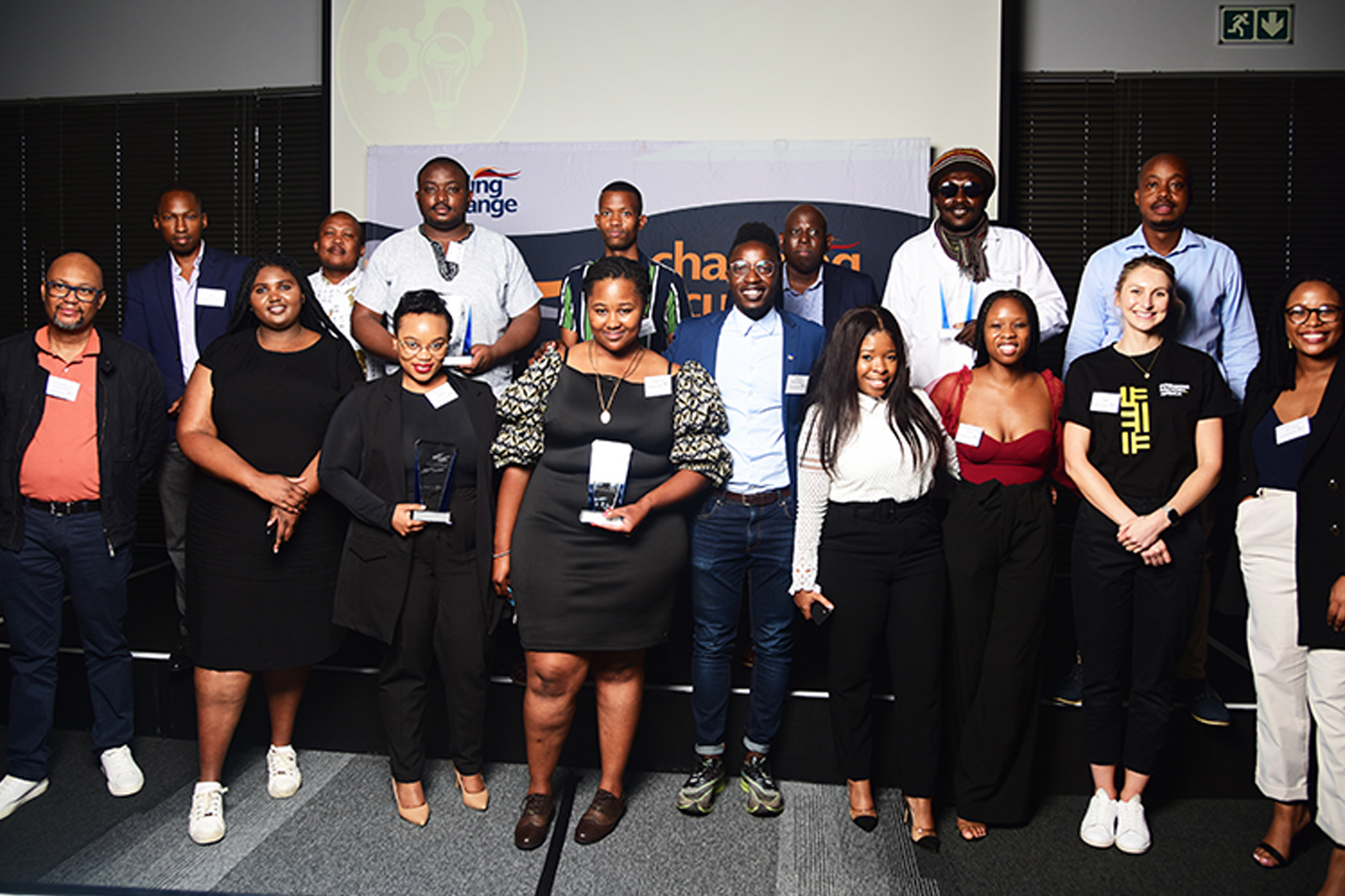 11 Feb

The Forge – "Insimbi ilola insimbi" – Where iron sharpens iron
2021 Innovation Challenge Programme winners with the judges and Unisa representatives
Unisa's innovative minds are set to be mentored and seed-funded in 2022 to develop innovative solutions addressing urgent societal challenges.
Eight student projects out of 17 were selected after a robust assessment and final pitching session to an adjudication panel of experts in innovation, entrepreneurship, business development and incubation.
'The Forge' session, where industry heavyweights sharpened emerging innovators, served as a platform to showcase the entrepreneurial talent of Unisa students on 3 December 2021 at the Focus Rooms in Modderfontein.
Pre-recorded pitching presentations of five minutes by project team leaders were played, followed by a Q&A session attended by a small in-person group.
Innovation Challenge Programme
The Forge session is the final phase of the competition of the Unisa Innovation Challenge Programme hosted by the Directorate of Innovation, Technology Transfer and Commercialisation (DITTC). The year-long programme develops and nurtures innovative student projects.
Unisa's aim is to attract, develop and retain young innovators that have the capacity to conceive and execute innovative solutions for society.
"We strongly believe that for our country to succeed, we need more innovators and entrepreneurs to start new things to solve societal challenges such as unemployment, economic growth, transformation and poverty," said Ayanda Noma, Director: DITTC.
The programme supports students by providing up to R100 000 of seed funding for proof of concept of novel or innovative solutions to societal problems that are social, environmental or technical in nature.
Shaped under heat
In total 100 applications were received with student participation from seven of Unisa's colleges and regions across South Africa and at the Ethiopia Regional Learning Centre.
A total of 40 projects were pre-selected to proceed to the Bootcamp Ignite session, facilitated by The Hook Up Dinner. The bootcamp covered the process flow from idea generation to a business model canvas to cultivate a culture of innovation and entrepreneurship among students.
At the finals, 'The Forge' session, student innovators were shaped under great heat by a panel of judges made up of Paula Nagy of Founders Factory, Mahlatse Tolamo of 22 on Sloane,  Vuyolwethu Dubese, founder of InnovTel, Zanele Ngwenya of Unisa Enterprises, Isaac Nthako of the Black Business Council and Brian Mphahlele of the Technology Innovation Agency.
You can watch 'The Forge' session by clicking on the link: https://www.youtube.com/watch?v=sNCcJRBRwA4
The projects that made the final cut are:
The NEST – innovative circular economy toilets for SDG 6
The recycling bank
Bioremediation of brine wastewater for agricultural purposes
Eco bicycles
Waterless maize meal
Construction daily diary app
Integrated and explorative learning method and apparatus
Auto-mechanical tap
On to the pre-incubation programme
The winners will join a select group of innovators who are being supported and mentored through the Unisa Pre-incubation Programme, also hosted by the DITTC. They will undergo a year-long structured programme that will help them to build their solutions and to build a business around those solutions.
Should you wish to participate in this programme, look out for the 2022 call for applications on various Unisa platforms.
* By Mpho Moloele, PR and Communications, Department of Research, Innovation and Commercialisation